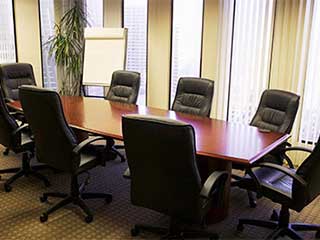 We offer an amazing range of stylish, highly practical vertical blinds for windows in any room of your property. We give you total control over how your new window coverings look, and you can choose anything from the color and material of your blinds to the mode of operation. Our highly personal yet affordable process starts with a free, no-obligation consultation with our Lake Forest-based representatives. This gives you a chance to see our high-quality vertical blinds in person, and to find out how they'll look on your windows. We're proud to offer amazing rates on vertical blind installation too, so you can be sure we'll take care of you from start to finish. If you want the best service at the best prices, then Lake Forest Blinds & Shades is right for you. Get in touch with us today to find out more about our vertical window and door treatments.
Cheap Vertical Blinds For Lake Forest & Nearby
It doesn't have to be expensive to get the best vertical blinds around. We provide top-quality window coverings without the top-shelf price tag. Our range lets you pick and choose whatever materials you want, including vinyl, wood and metal vertical blinds in many different colors. If you're looking for a softer finish then you could opt for vertical blinds with curtains instead, and this is a very popular option for bedroom window coverings. In fact, thanks to our custom production process, there's no limit to what we can provide. We even offer Lake Forest businesses vertical blinds for office windows. Whether you're a homeowner or a business owner, we've got the ideal door and window blinds for you.
Professional Vertical Blinds Installation (Doors & Windows)
We know that keeping your property comfortable and secure are two of your highest priorities. Our custom vertical blinds let you do exactly that, providing an easy way to control natural light as well as maximizing privacy. Making sure they're set up correctly will allow them to last for many years to come. Choose vertical blinds for patio doors for an easy way to keep out unwanted natural light. We also provide vertical blinds for sliding glass doors, which are specially crafted to ensure smooth, hassle-free operation. Interested in seeing how our products could improve your home? Go ahead and set up a free, no-obligation consultation. We offer vertical blinds to the entire Lake Forest area. So if you're near, get in touch with us anytime to book an appointment.
Motorized Vertical Window Treatments
You might think it would cost a lot to install motorized vertical blinds in your Lake Forest office or home. With our amazing deals, though, you could be in for a good kind of shock. We provide custom motorized vertical blinds for a vast range of windows and sliding glass doors. And we've got many different options on offer. Easily open and close all of your living room blinds simultaneously, or adjust the sunlight coming in through an awkwardly-placed window. Find out how little electric vertical blinds could cost by getting in touch with us to schedule a free estimate.
Custom Made Vertical Blinds
There's no limit to how your new vertical window treatments can look and work except for your imagination. Lake Forest Blinds & Shades offers everything you need to turn your dreams into reality. With our amazing quality and low prices, you can easily improve any Lake Forest windows and doors. Get more info and advice with a free in-person consultation and quote.