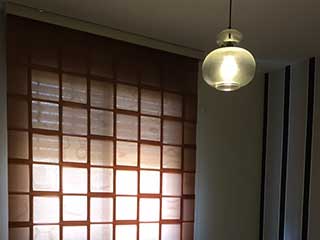 This style of window treatment combines the elements of blinds and shades into a hybrid system, offering most advantages of both while avoiding the lacks. Lake Forest Blinds & Shades offers hand-drawn and motorized sheer shades in a range of styles and materials, all custom made for your windows.
What Makes a Shade Sheer?
Sheer shades consist of a thin layer of fabric or other semi-translucent material stretched across and attached to an array of flat, rigid slats. These slats can turn or tilt on their axes, and the fabric layer is designed to remain a flat, sheer surface regardless of whether the slats are tilted end-to-end or at ninety degrees to the side). The entire array can also be slid or compressed to one side of the window when opening it.
Control and Ambience
Like traditional blinds, the slats of this system can be turned in place to allow in more or less sunlight, no matter what position the sun is currently in. The difference is that all that light will be filtered through the cloth shade layer, creating a softer, less glaring illumination (especially if you have the shade layer made from one of our solar fabric choices!). The cloth also ensures that even when the slats are turned fully horizontal, people can't see into your window from outside.
Customize as You Wish
Considering these parameters, sheer shades can come in all shapes, sizes, and styles. Any type of fabric or thin weave material can be used for the shade layer, provided it isn't too thick. These treatments can also be designed to be reversible, horizontally sliding or telescopically mounted. Other design options include cellular tubing for heat retention and motors that can open and close the shades by remote control, timer, or light sensor. Almost anything that you can do with basic blinds or shades, you can also do with sheer.
Place Your Order Now
Our products and installation services can all be tailor-made and scheduled to your needs. Additionally, all sales come with a free consultation visit and a five-year warranty. Call us today!