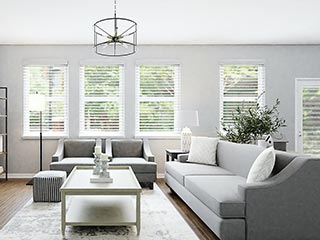 When choosing new treatments for your home or business windows, you need to think about décor as well as the overall functional usage. With Venetian blinds, motorized especially but manual ones as well, you can get both those benefits in a single product.
Venetian-style Blinds For Windows
A classic look made famous and popular since before the last century, Venetian blinds have earned their place among the most common window treatments of the modern era. Despite originating in the past, these traditional blinds have outlasted other window coverings for their functionality and simplicity.
Should You Get Venetian Blinds Installed?
It depends on what you're looking for, but the answer is often – yes! As the leading source for Venetian window blinds in Lake Forest we might seem biased, but these classic window treatments have a lot to offer to homes and businesses alike.
Consider Motorized Venetian Blinds For Your Lake Forest Home or Office
If we take the familiar look of these blinds and combine it with wireless remote control technology, we can get an excellent combination of classic and new. Motorized Venetian blinds are easy to control and adjust using a remote handset control device or smartphones and tablets. This way, you can change sunlight levels from practically wherever you want, without wasting time or making a ruckus.
Great Prices For Useful and Classic Blinds
The popularity of Venetian blinds is a true testament to their utility. But the affordable cost doesn't hurt either. Looking for more information on motorized Venetian blinds custom made for the home, hotel, store, or office, among other types of properties? Then get in touch with us to arrange a free estimate from Lake Forest Venetian blinds professionals near your local area. Meet with the team for an in-person consultation, see what's available, pick and choose what you want, and let us take care of the rest!