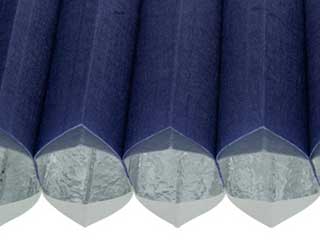 Cellular shades are a popular type of window coverings known for their energy-saving properties. They possess a honeycomb-like pattern of pockets (cells) that trap air between the window and the room, creating a buffer against heat loss in the winter and heat gain in the summer.
Choosing the Right Cell Size
Most people opt for cellular shades because they are energy efficient. However, the amount of energy saved is entirely dependent on the size of the cells, and how well the cover fits the window. It is important to know which cell size is right for your home or office windows, as an incorrect size will lessen their energy-saving properties. It will also make the shades look a little awkward, which is the opposite of complementing the room's decor. Fortunately, figuring out the correct cell size isn't hard.
Different Sizes For Different Windows
Let's start by saying that you don't have to think about this really. Lake Forest Blinds & Shades will take care of all this during the measuring process. But if you're interested in learning more, we're happy to help. There are two things to consider - size, and double or single cells. Double cell cellular shades offer more insulation and are therefore more energy efficient—but this means that they are also heavier and will cost more. Single cell shades are lighter, but provide less insulation. Still, they tend to look better on the window, and will still offer a significant amount of insulation. Small cells mean that the pleats are narrower, which suits small windows. Medium cells are a good balance for any window size, but especially mid-sized windows, naturally. Large cells have large pleats and are optimal for deeper window sills.
Let Us Help
Have an expert from Lake Forest Blinds & Shades come to your home or office and help you choose the design and style that best suits your needs. If you want to ensure your new cellular shades provide as much insulation as possible without ruining your interior decor, then contact us. Don't forget, apart from cordless and other hand-drawn childproof operation options, you can also get motorized cellular shades installed.