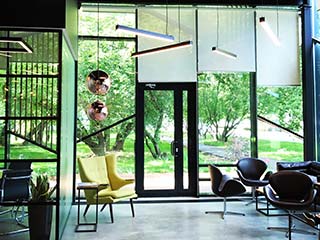 Motorized window shades give a lot more than just aesthetic benefits. If you outfit your home or workplace shades with smart control systems, you can reap a whole slew of cost and stress-saving benefits. Every set of Lutron shades that we assemble for Lake Forest area customers is tailor-made to their specific needs and preferences. With your choice of styles from blackout shades to Roman pleats, and control options including switches, handsets, and home networks, Lutron offers the best in shading solutions.
Benefits Of Smart Motorized Window Shades
Most window treatments give you the benefit of sunlight protection and decoration, at least to an extent. Motorized shades make everything much more convenient since you can just hit a remote control button instead of having to raise and lower each shade each time. When you add smart controls like the ones on Lutron cutting edge shades into the equation, the perks get so much better!
Motorized Lutron Shade Solutions
Smart shades adjust themselves automatically, either on a timer or – better yet – by following weather and traffic reports or using a sunlight sensor. This means that you don't even need to be home for your motorized Lutron shades to work on their own, or to remember they need adjusting. Keeping the heat in when it's cold and blocking the sunlight when it's hot can save you over eleven percent on AC and heating costs.
Best Lutron Shade Prices in Lake Forest
Our custom-made motorized Lutron smart shades come in various styles, sizes, and colors, as well as smart control systems. Choose the materials, colors, or designs that work best for you, or ask our experts for decorating advice during your free estimate. Whether it's a window, glass door, or even a skylight, we offer motorized shading solutions with Lutron controls for all nearby Lake Forest buildings. Get in touch with us to set up a free consultation appointment!