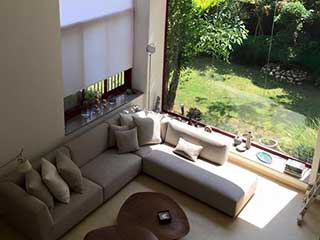 What should you look for when comparing window blinds and shades? Everyone has different preferences and needs, but there are some general factors that you shouldn't ignore.
Light Filtering Is Key

You should have a clear idea of how much ambient light the blinds should let in the room when they are fully closed during the day. The two extremes are sheer window coverings and room darkening shades. It is important to note that the sheer covers will still give you a high level of privacy. Darkening shades, on the other hand, usually offer good heat and sound insulation in addition to blocking and filtering light.

Consider the Level of Insulation

This factor is becoming ever more important for both home and business owners. There are various types of blinds and shades designed to keep the indoor space warmer in the winter and cooler in the summer. Among the most popular options, you will find the cellular shades. They come in different sizes and thickness levels, which makes them suitable for windows and even glass doors of any size. Cellular shades provide insulation by trapping air inside cells which usually have the shape similar to honeycombs. The size and number of cells will determine how good the shades will be at insulating the room from heat and noise. The thickness of the material also determines the level of privacy these coverings offer.

Automatic Window Treatments

Somfy and Lutron, which are the industry's leading manufacturers, have come up with various electric motors and controls which make the operation of blinds a lot easier. When looking at the control options available, you have to be absolutely certain that they are child-safe. They should be highly convenient and durable as well. You would not want to spend ages adjusting your roller shades, for example. It's much easier to have them use a special sensor to detect weather conditions and brightness level, and then adjust themselves.


Another Reason To Consider Motorized Blinds

Automation is becoming ever more popular, especially among people who have smart home technology, in which most of the devices can be controlled remotely. If you go for smart window blinds, you'll be able to integrate them into your smart home control system. That means controlling natural light filtering via a remote control or a smartphone app. You can also set scheduled operation times for opening and closing of the window treatments. This is a great way to make full use of the sunshine during the day. It also helps to ensure that you will enjoy complete privacy in the evening.

Blind Durability Matters

You should always learn more about the materials of the coverings you consider buying. This is especially important if they are made from fabric like the highly popular layered shades. You must ensure that the material is resistant to the damaging UV rays of the sun. This will help make sure you and your furniture stay adequately protected while the shades are down, or when the brighter vanes are letting in sunlight. The fabric should be able to stay intact regardless of the seasonal changes in indoor temperature and humidity.
Need some more information? Contact Lake Forest Blinds & Shades to consult with a professional, free of charge.