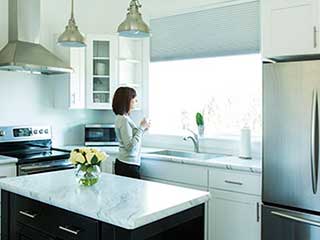 Roller shades fit inside of the window frame and are rolled up or down from an overhead spindle, either by hand or by an automated system. These are probably the simplest and most common type of shades, which means they can fit any room and are essentially a blank slate for customization.
Colors And Designs Galore
A simple sheer fabric with an unassuming color is perfectly fine if you want a window shade that doesn't call too much attention to itself, but there are countless more exciting options as well! Roller shades can be made from quite a range of fabrics of different thickness and texture, and the sky's the limit when it comes to decoration. Colors that match or complement the rest of the room, as well as designs such as pictures or embroidery, can make all the difference between a utilitarian covering and a vital piece of the room's décor.
Hand Drawn Or Motorized
Roller shades are some of the easiest to open and close, thanks to their simple mechanism and close fitting to the window frame. Because of that, they are also some of the easiest to hook up to an automatic system. Motorized drapes can be activated from across the house, or even automatically at certain times a day, and the lack of a drawcord makes them safer for children. Any of our roller shades can be installed with an old fashioned cord or a smart motor, as you choose.
The Advanced Options
Our custom roller shades can come in a variety of fabrics, but fabric isn't the only option! More elegant shades can be made from enchanting bamboo or obscuring vinyl, or combined with a honeycombed design, to allow a little more sunlight in between the pieces and really bring the detailing to life. Ask us about these and other options for your new roller shades.
Give Us A Call
Your imagination is the limit for our custom made roller shades. Get in touch with us today and have yours brought over and installed!