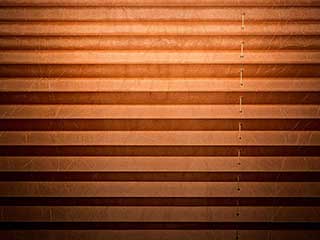 You can never feel comfortable at home if you don't have privacy. Not all window coverings can provide the level of privacy you need. We understand how essential it is to have the proper treatments in place to maintain privacy for you and your family. These are our top choices for window coverings that bring protection from prying eyes.
Roman Shades Look Great In Any Home
When we're talking about bringing privacy to your home, you might start picturing large, imposing blinds. That's not the case at all. Window coverings like roman shades are a fantastic way to prevent people from looking into your property. They look excellent, too. You can choose any number of different designs, including flat, fishtail and pleated. We also supply a range of different materials. Heavier fabric is ideal for maintaining privacy, and you'll find it easy to choose the perfect coverings.
Blackout Blinds Offer Total Privacy
At the other end of the spectrum are our custom blackout blinds. These are ideal when you need to stop light entirely. As you might have guessed from the name, they can prevent all light from entering or leaving through a window. That means nosy neighbors won't be able to see into your living room or bedroom, even if you turn on all the lights. Of course, our blackout blinds come in many different designs and colors. This lets you add privacy to any room in the house without compromising on aesthetics.
Plantation Shutters Are A Classy Way To Add Privacy
Few window coverings look quite as welcoming as plantation shutters. We offer a range of attractive designs and finishes, allowing you to integrate privacy into any room easily. These window coverings are very easy to operate and are impossible to see through when closed. That means you can obtain perfect privacy by merely tilting the shutters closed. Plantation shutters make for an excellent shading solution for Lake Forest homeowners that want timeless elegance as well as personal privacy.
Use Vertical Blinds To Cover Large Windows
Patio doors and sliding doors often feature big panes of glass. These features, as well as large windows, can be easy for outsiders to see through. Don't put up with people peering in through your patio windows. Invest in vertical blinds that guarantee your privacy whenever you need it. These vertical window treatments make it easy to balance natural light with your need for private home life. Vertical blinds work exceptionally well when covering sliding glass doors and large windows.
Add Venetian Blinds To Any Room
We recommend custom Venetian blinds as a great way to make any property more comfortable. You will enjoy having window coverings that can easily cut out the outside world. It only takes a twist of the control rod, and these treatments can either let in sunlight or keep out prying eyes.
Blackout Curtains Offer a Lot
The classic option of curtains and drapes still has plenty to offer in our modern day and age. Blackout curtains do a fantastic job at blocking sunlight and visibility. They make for great additions to bedrooms and anywhere else where you want both privacy and blackout conditions. You can get blackout curtains made in a variety of styles and from all sorts of fabrics.
Why Sacrifice Privacy?
Can you really be happy in a home that doesn't feel private? Contact the experts in your area at Lake Forest Blinds & Shades. We will help you make your Lake Forest property more comfortable and secure, and most importantly – private. From window blinds to shades, shutters, and even blackout curtains. Choose whichever custom window treatment provides the best privacy and décor for your needs.