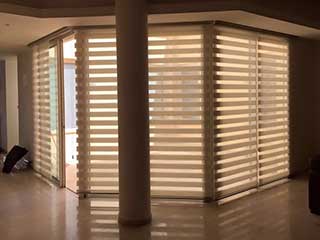 From storefronts and cozy restaurants to expansive schools and office suites, businesses have all kinds of windows, and these can be as much of a liability as an asset without good coverings. Our products come in all colors, materials, and styles, and can be customized to fit any window.
The Importance of Window Treatments
Comfort and aesthetics work on a level beyond rationality or consciousness. Overt decoration aside, if your business is comfortable to be in and aesthetically pleasing, customers and employees are going to want to come back time and time again. If it isn't, your competitors are going to stick in peoples minds better, even if their products or services aren't as good! Additionally, blinds and shades protect furniture and prevent window convection, saving you money on electric heating, cooling, and furniture or wallpaper repair.
Blinds and Shades
Shades provide gentle, filtered sunlight and can be highly decorative. If you run a restaurant, gallery, a consulting or therapy office of any kind, these can go a long way towards creating the comfortable and relaxed atmosphere that you want. They can also be made in honeycomb cell pattern to improve insulation, or in solar fabrics that reflect glare and ultraviolet rays while letting air and light in. For a more subdued, professional atmosphere and a full light and privacy control, go for some sturdy blinds.
Motorized or Hand Drawn
While hand-drawn cords or handles can make things hospitable for customers and employees, larger commercial floors might benefit from a more centralized, reliable control. Motorized blinds and shades can all be activated from a single remote, or – better yet – programmed. With the latter, the covers adjust themselves automatically at certain times of the day or in response to heat or sunlight conditions. It's all up to you.
Order Your Own Coverings
Lake Forest Blinds & Shades provides professional installation for any and all products, as well as free consultation appointments with a purchase. Get your window treatments and create the best atmosphere there is!