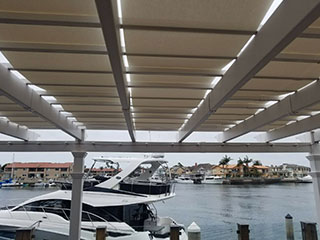 Adding shade protection to your windows does a lot to improve décor and enhance utility. And your outdoor spaces deserve the same treatment! You can add patio shades to outdoor lounge sections in your Lake Forest property and enhance both its look and its functional sunlight protection. Patio covers add more than just a way to shield yourself from harsh sunlight. They contribute to the aesthetic of the area, creating an attractive look that also adds to your enjoyment of the outdoors.
Can I Get Motorized Patio Covers?
You most certainly can. One of the most popular choices for patio shades is motorized covering solutions. With motorized patio covers, you only need to push a button, and your patio transformers to a protected gazebo in no time. Remote control patio shades for your Lake Forest backyard offer a lot of utility and functional coverage to outdoor spaces. Whether you need a motorized deck canopy to protect hardwood platforms or something decorative to add to hardscape paver patios, our motorized shades for outdoors will offer you a lot of different appealing choices.
Freestanding Patio Shades
Of course, you may want to go for another, more portable choice. Freestanding pop-up canopy tents serve as an excellent addition to outdoor lounge spaces. Your Lake Forest patio can benefit from freestanding outdoor canopies that you simply pop up at any time you want to improve the coverage. Perfect for gardens, lawns, and various other open spaces, freestanding patio shades can add to the aesthetic too. With all sorts of beautiful decorative designs, pop up canopies for decks, patios, courtyards, and other open spaces can boost the aesthetic appeal of the area. It's important freestanding patio shades withstand the elements too. With our waterproof patio shades, freestanding shade sails, and other outdoor canopy options, you can protect yourself from harsh sunlight, windy conditions, and even rain.
Shade Sails and Motorized Awnings For Lake Forest Patios
Another fantastic choice that many customers go for is attached outdoor shades that protect different angles. Unlike regular patio covers, awnings and shade sails provide a different covering solution, best utilized in areas where you don't have the traditional columns, pillars, or patio roof bases. Motorized awnings still allow you to use remote control options for your outdoor covering solutions. With Wi-Fi and Bluetooth being so popular, you can even turn your phone into a remote handset. Shade sails can turn your backyard and outdoor lounge areas into veritable ships. With the beautiful designs for patio shade sails, you can add lots of color to the outdoor area, without any complicated or expensive installation.
Get Patio Covers Custom Made
Consult with the best professionals near you on different patio shades for Lake Forest area outdoor spaces. If that wasn't clear – we meant us! Our team offers free estimates on motorized patio covers and freestanding outdoor canopies and shades. You can get any outdoor covering solutions you want custom made-to-measure to ensure precise sizes and complete protection. Call or use our online contact form to book your free consultation today!