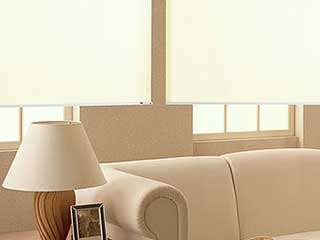 Our range of custom blackout blinds gives you the ideal way to improve privacy and. Keep the sun at bay with fully opaque window coverings in a wide range of different styles. Our products are suitable for many different purposes. This includes blackout blinds for skylights and other difficult-to-reach windows. Combined with our low prices and affordable installation rates, this makes it easy to get high-quality treatments for any window. We're proud to offer free consultations anywhere within the local area. Simply speak to the Lake Forest Blinds & Shades team based near you today to arrange a free in-person estimate.
Great Deals On Motorized Blackout Blinds
The last word in convenience is remote control window coverings. You won't find a better solution for keeping your property comfortable. Our motorized blinds can even provide additional protection. You can set them to work automatically, making it seem like you're home when you're not. We offer a variety of control options, from smartphone to remote controls and wall switches. You can combine these, of course, for maximum flexibility. Close the blackout blinds for French doors at the same time as the ones in your bedroom. All with the touch of a button. Our range of motorized blackout blinds includes a selection of both wireless and wired power options. All of this power comes at a much lower price point than you might imagine, too. Simply schedule a free consultation in the Lake Forest area today to find out more.
Cheap Room Darkening Blinds
We offer the best blackout blinds for every situation imaginable. This is because we give you total control over every aspect of the design. From the color and the materials to the method of operation. If you need blackout blinds for the bedroom, you can easily create custom window coverings that perfectly suit your requirements. Our Lake Forest-based blinds specialists will take precise measurements of everything. We need to provide you with perfectly-fitting new window coverings, and that's why we're always so meticulous. Then, when it comes to installing your blackout blinds, our technicians will work quickly to get your new window treatments installed. Our rigorous professional standards mean you can trust our workmanship. And our low rates make installing new blackout blinds an easy decision to make.
Blackout Blinds For Lake Forest Businesses
In addition to providing excellent blinds for residential properties, our range of window treatments is also a great addition to any commercial building. We provide a wide selection of blackout blinds for office windows. These coverings are perfect for reducing glare and dazzle in the workplace. They also help to keep employees comfortable even on the sunniest days. It's important to reduce glare-induced headaches amongst your staff and customers, so why not explore how custom blackout blinds could improve your premises? Speak with our Lake Forest-based blinds experts today to find out more.
Amazing Deals On Blackout Blinds
You'll be amazed at how reasonable our prices are. For totally custom-made window coverings that bring comfort and privacy wherever you need it, we're proud to offer our amazing range of blackout blinds all around Lake Forest and the nearby area. Get in touch today to find out what our team can do for you via a free estimate.