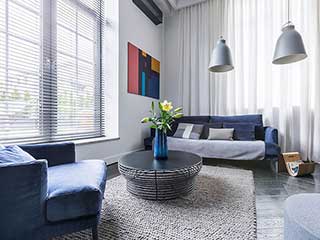 Still sitting on the fence about swapping your curtains for modern blinds and shades? Here are six great reasons why making the change could be the best home improvement project you undertake this year.
They Offer a Huge Variety of Styles

Whatever style or design strikes your particular fancy, you'll find a blind or shade to match it. Whether your preference is for classic Venetian or Roman styles, faux wood blinds or innovative layered shades, you won't be short on color, texture, and material options to choose from.

They Can Work In Any Room

Do you think you can't have shades in your bedroom because your room won't be dark enough to allow you to sleep comfortably? Choose a shade made with blackout material and you won't have to worry. Are you concerned that the wooden blinds you've fallen in love with will get damaged in your bathroom? Go with faux wood blinds instead to achieve the look you want without having to worry about special maintenance. For almost every room challenge, there's a blind or shade solution that can address it. Window coverings are so versatile that they can even be customized to fit windows of any size or shape.

They Can Suit Every Budget

Window treatments don't have to cost you an arm and a leg. If you're on a tight budget, try getting blinds or shades made from cost-effective materials such as PVC, vinyl or synthetic fabrics. However, if you're willing to splurge a bit, premium branded blinds and shades such as those offered by Bali, Levelor and Hunter Douglas can add a perfect touch of luxury and elegance.

Simple and Easy Maintenance

An often overlooked advantage of having blinds over other types of window coverings is just how easy it is to keep them clean. All they need is some dusting to keep them looking good. Admittedly, shades can be a little bit more challenging, depending on the material they're made from. But some types, such as bamboo and woven grass roller shades, also don't need more than the occasional dusting or vacuum cleaning.

They Can Help Lower Your Heating Bill

Cellular shades really shine in this area. Their single or double cellular layering helps to keep warm air in or out, depending on the season. Making your home's energy usage more efficient is significantly beneficial in the long run, for money saving reasons if nothing else. Cellular shades also have a unique look that can make for a great design addition.

Effective Noise-reducing Shades

Window treatments can work wonders in a room that faces a busy road or street. While they may not completely block out all the noise, they can go some way towards reducing it. Cellular shades, in particular, contribute to a more peaceful home, as their insulating qualities also make them excellent noise barriers. Generally speaking, the heavier the fabric, the better the shade will be at insulating a room from outside noise.