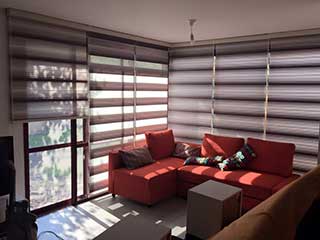 These window treatments consist of two layers with different colored strips, which allows them to switch effortlessly from room darkening status to sheer opening brightness. Layered shades are really great for those who want an easily adjustable shading solution that can provide both privacy and visibility. Lake Forest Blinds & Shades has a range of options to offer you when it comes to layered-style coverings, and you're bound to find a design that can easily complement your interior décor.
Excellent Light Filtering Choices
The sheer fabric stripes allow sunlight in, but filter and block harmful UV radiation, giving you illumination without the negatives. If you decide it's time for some privacy, or if it's getting too bright outside and you want to mitigate your sunlight exposure a little or a lot, then these coverings offer a solution for that as well. You can easily adjust them so that the opaque bands rest over the sheer stripes, blocking out sunlight and darkening the room without having to raise or lower the entire shade.
Beautiful Dual Styles
The variety and juxtaposition of layered shades make them a unique décor enhancement that truly stands out. Apart from giving the room a certain vibe and elegance, their adjustable status allows you to choose and adjust how much sunlight gets through, making them a very versatile shading option.
Custom Made and Motorized Options
What's important is that your layered shades are a perfect fit for your windows. If they're not custom made according to the relevant dimensions, they won't do as good a job of blocking and filtering sunlight. If you don't want to have to manually adjust them every so often, consider getting motorized layered shades. These beauties will allow you to alter the amount of sunlight that gets into the room with a remote control handset, or your own smartphone. In fact, you can also get a set of layered shades that use brightness sensors (Somfy and Lutron are great brands that offer such motor and control options). These shades will self-regulate according to settings you determine, adjusting to the amount of sunlight outside without you having to lift a finger.
Beautiful Layered Shades Near Lake Forest
Lake Forest Blinds & Shades specializes in a lot of different avenues of window treatment options, but layered shades are certainly a personal company favorite. These different stripped coverings make for an elegant and beautiful shading solution that has a lot more to offer than just design contributions. Schedule a free consultation to learn more.