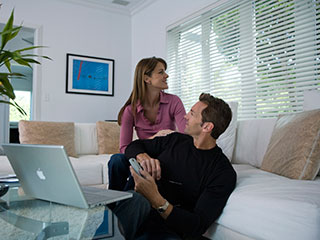 As far as advanced technology goes, Somfy motorized blinds have the new remote control features that every home or business can benefit from. With smooth motion and quiet motors, Somfy blinds let you control motorized window treatments in any room you install them in without any effort. The special features allow for a lot of added value for remote control blinds and shades alike. With made-to-size options and complete coverage for different window sizes, Somfy shade solutions provide the optimal choice for Lake Forest homes and commercial spaces.
Why Motorized Blinds Are Worth It
The old method of strings or cords has more than outlived its purpose in today's modern age. Motorized window blinds provide more than a convenience factor, but an aesthetic addition too. Besides looking sleek and possessing a clean design, Somfy blinds with remote control features make your daily life a lot more functional. You can optimize natural lighting and privacy in any room with the push of a button, and utilize the many different added features for automation as well.
Motorized Rolling Window Shutters
As far as better security goes, Somfy shutters offer a mask of protection over windows. Not only protection from sunlight but from the elements and other factors too. The more durable materials used can offer better insulation as well. This helps improve energy efficiency and makes Somfy rolling shutters hugely popular. When you need to cover glass doors or window walls, motorized shutters can provide an ideal choice.
Somfy Outdoor Shade Solutions
Got a pool deck or patio you need to add smart motorized covers to? With Somfy controls, pergola screens, motorized awnings, and deck canopies all can provide high-tech functionality and a huge convenience benefit. Motorized outdoor shades utilizing Somfy features let you create ideal protection for outdoor shade structures. Choose motorized patio covers, pergola canopies, or other outdoor shades with remote controls to give your property a boost to both exterior utility and aesthetics.
Lake Forest's Top Custom Made Motorized Blinds and Shades
Find all sorts of diverse and functional options with Somfy's wide range of controls and products. Want to talk to a professional to get in-depth advice free of charge? Schedule an appointment for a free estimate from our Lake Forest Somfy motorized blinds installers and see what new advanced technology can suit your fancy.