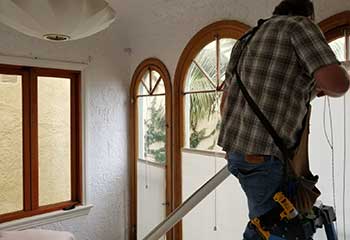 Vertical Blinds
Customer Issue: The Shippers' guesthouse unit had a long window curving along two of its walls. They needed some intricate vertical blinds to cover the whole space.
Our Solution: The curving window frame called for maximum flexibility, so we measured out some rubber slats and matched them with compound rollers. Laying and aligning the tracks along the curve took careful work, but there's no arguing with the results. The dynamic, corner-turning vertical blinds are a memorable and distinctive part of Mr. Shipper's guesthouse.
Norman Shipper
- Lake Forest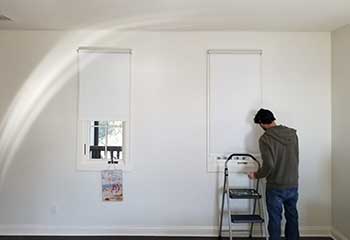 Blackout Blinds
Customer Issue: Mrs. Strickland's daughter is a light sleeper who has trouble sleeping with all of the streetlights and passing car lights coming in through her window.
Our Solution: Blackout blinds have the properties that Mrs. Strickland wanted for her daughter's room. They can keep out all light from outside completely, allowing her daughter to get some rest without trouble. They're also easy to use and simple in style to match her daughter's room as well. We suggested a deep blue color to best complement the area.
Annie Strickland
- Mission Viejo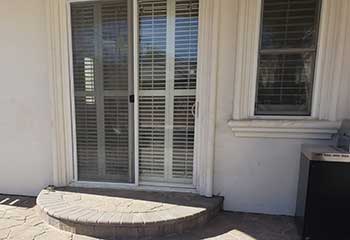 Blinds For Sliding Doors
Customer Issue: The customer was looking for blinds that would help keep out the sun as needed for her sliding doors so her home wouldn't get as warm.
Our Solution: Our experts had the perfect solution for the customer with our blinds particularly suited for sliding doors. Once measurements were taken, the new white blinds were custom made these specifications so that they would perfectly cover the doors. They were then installed for the customer right away.
Betsy Poole
- Rancho Santa Margarita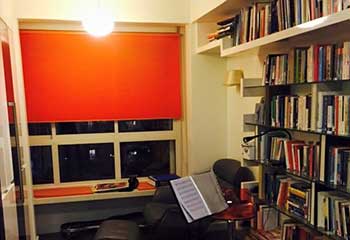 Vinyl Blinds
Customer Issue: The media room needed blinds that will keep the outside streetlights from shinning into the room after dark.
Our Solution: Our team installed moisture and chipping resistant 2" vinyl blinds in high gloss lead-free orange, to match the digital and electronic equipment in the room. To improve the light control, double vinyl headrails with light blocking lip and matching cloth slats to cover the holes were included.
Logan Chen
- Mission Viejo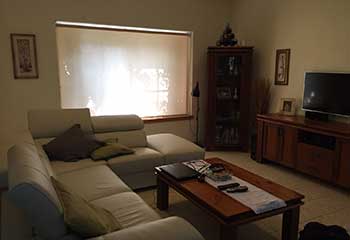 Motorized Shades
Customer Issue: The customer was looking for easier to operate shades.
Our Solution: Our customer wanted shades that could be lined up and look lovely without having to fuss with manual strings so motorized shades were suggested. This way she could far more easily set them all to the same height, including any windows that were high up.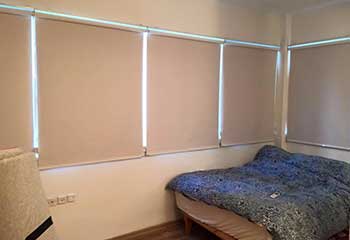 Roller Shades
Customer Issue: Ms. Davidson needed straightforward shades for each room in her home.
Our Solution: Since this customer wanted shades that would quietly complement the various rooms in her home, our professionals suggested roller shades. This way, the cloth could be customized in terms of color and pattern according to the room it was going in.
Ashley Davidson
- Foothill Ranch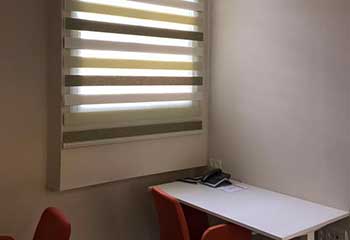 Wood Blinds
Customer Issue: This customer wanted blinds to match her wooden desk in her office.
Our Solution: Using our free color sampling, our experts helped this customer compare multiple shades of natural wood staining to find the perfect match to the furniture she already had in the room. The wood easily complemented the area without drawing too much attention.
Judith Flores
- Lake Forest